Среднее образование в школах США уже давно пользуется популярностью, так как местные школы прогрессируют и качество образовательных услуг.
Далее мы рассмотрим ТОП-20 самых дорогих и респектабельных школ в США, где учеба не только престижна, но и приятна благодаря особой атмосфере и хорошим образовательным перспективам.
20. Беркширская школа
Беркширская школа открывает этот рейтинг. Его кампус расположен в городе Шеффилд (штат Массачусетс) прямо у подножия горы Эверетт, которая является одной из местных достопримечательностей. Здесь могут находиться до 400 учеников, некоторые из которых находятся в условиях интерната. Сообщество школы мультикультурно: сюда приезжают как ученики из разных штатов Америки, так и из более чем 30 стран мира.
Расположение: Шеффилд, Массачусетс

Стоимость обучения: 64,

200 $

Рейтинг: 57.
19. Академия Блэра
The next institution on the list is Blair Academy, founded in 1848. It is also one of the oldest private-sector American high schools. It is distinguished by prestige and therefore a high level of selectivity: only 18% of applicants get here for education. School funding is a round sum of 105 million $, which makes it possible to equip the school with comfort and modernity. On the territory of the educational institution can accommodate up to 80% of students (at the boarding house).
Location: Blairstown, New Jersey

Tuition: 64,

200

$

Ranking: 40.
18. Concord Academy
Concord Academy bears the name of its city and refers to private schools with accommodation. Here, on a full board basis, more than half of the students are accommodated - more precisely, 60% of the total number. Despite the fact that the tuition here is quite high, only 25% of students can count on financial support (that is, every 4th student), while the size of the financial fund is 5 million $.
Location: Concord, Massachusetts

Article

oimost study: 64,

200

$

Ranking: 17.
17. Tabor Academy
Tabor Academy is one of the most prestigious and expensive boarding schools located in the state of Massachusetts. When deciding on the enrollment of each candidate, the selection committee draws special attention to its solvency by carefully studying information about the future student. Quoting the official Tabor Academy website, SMAPSE experts note that the last stage of selection becomes a "realization of necessity": this means that the selection committee compares the general academic and personal qualities of students and their financial capabilities when making a decision.
Location: Marion, Massachusetts

Tuition:

64,

5

00 $

Ranking: 97.
16. Kent School
Like many prestigious private schools in America, Kent School offers boarding accommodation - up to 93% of students live on campus. Most of the teaching staff has academic degrees, and the school's educational program offers not only 28 AP subjects, but multi-level programs in several languages, including Chinese, Latin and Greek.
Location: Kent, Connecticut

Tuition:

64,

6

00 $

Ranking: 41.
15. Oregon Episcopal School
The Oregon Episcopal School is located on a rural campus near downtown Portland. The area of the school territory is 59 acres, and in total about 870 people study here from the pre-school level to the 12th grade of high school. Students have the opportunity to sit on the campus and enjoy a variety of menus: from vegan or gluten-free dishes to Chinese, Indian, Mexican or Thai cuisine.
Location: Portland, Oregon

Tuition:

6

5,1

00 $

Ranking: 34.
14. Cate School
Cate Private School, founded in 1910, is located in the state of Southern California. Today, about 300 students study here. According to official data from the site, of which 28% of people can expect to receive financial assistance if necessary. On the terms of the boarding school, about 220 people live here, and another 60 go through day time education.
Location: Carpenteria, California

Tuition:

6

5,5

00 $

Ranking: 9.
13.

Northfield Mount Hermon School
This is a secondary educational institution for co-education and living in a boarding format, the territory of which is located in the cozy countryside of Massachusetts. On the school's official website, Northfield Mount Hermon considers its mission to create an environment that allows "to use the students' intellect, compassion and talents, enabling them to act with humanity and purpose."
Location: Mount Hermon, Massachusetts

Tuition:

6

5,5

00 $

Ranking: 37.
12.

San Domenico School
One of the oldest schools in California offers its students 2 formats of education: boarding school and full-time. The campus covers an area of 515 acres in San Anselmo - it's a 35-minute drive north from San Francisco. The San Domenico School is the owner of an impressive 12.6 million $ charity, and although the cost of studying here is already quite high, almost 40% of students here pay for their studies at the lower price index.
Location: San Anselmo, California

Tuition: 6

5,61

0 $

Ranking: 82.
11.

The Webb Schools
The director of Webb schools, founded in 1922 in Clermont, on the official website gives an exhaustive description of this educational institution: "The admission of our graduates to the Ivy League, to the best women's colleges and small national liberal arts colleges, that is, in fact, to TOP-10 of all colleges and the country's universities, remains wonderful." Institutions have a good track record of achievements and an excellent reputation, which is highly valued - the cost of education is appropriate.
Location: Clermont, California

Tuition fee: 66,

613

$

Ranking: 26.
10.

The Lawrenceville School
Lawrenceville Private School, located on an area of 700 acres, is based in the historic district of the city of the same name in the state of New Jersey. The boarding school accepts high school students from grades 9 to 12, has an impressive financial fund of 470 million $.
Location: Lawrenceville, New Jersey

Tuition:

66,636

$

Ranking: 4.
9. Worcester Academy
More than 500 middle and high school students attend the Worcester Academy in the state of Massachusetts, with 35% of high school students living in a suburban area of the school. This boarding school, of course, can be called expensive, but the selection committee is ready to meet its candidates in order to overcome this barrier. The information on the school's website says that "If WA is the right place for your child, and finance is the problem, then we will work out a plan with you."
Location: Worcester, Massachusetts

Tuition:

66,672 $

Ranking: 99.
8.

St. Albans School
St. Albans Private School, located in Washington, was founded in 1990. This educational institution is exclusively for boys, where 30 students from grades 9 to 12 from different parts of the world are currently studying. Since the decor in St. Albans School is very chamber due to the small number of students, every day students of the boarding school participate in almost family dinners in the company of classmates and teachers: this allows you to create an atmosphere of community and unity in a relaxed atmosphere.
Location: Washington DC

Tuition:

6

6,918 $

Ranking: 16.
7. Stevenson School
Studying at Stevenson's school, located almost on the pebble beach of Pebble Beach, will undoubtedly cost a large sum of people: the cost of studying in high school will be about 67,000 $. Participants in the preschool education program pay about 17,000 $ for one academic year.
Location: Pebble Beach, California

Tuition: 67,500 $

Ranking: 68.
6.

The Village School)
The Village School in Houston, Texas, now has an area of 28 acres and is not going to stop there. Students in full board are accommodated in a new 4-storey hostel: this is a luxurious residence, on each floor of which there is a fully equipped kitchen, vending machines and a laundry room (washing machine with dryer). In the courtyard, students will even find a grill and an entertainment area with an open area for cooking (of course, under the supervision of staff).
Location: Houston, Texas

Tuition:

67,750 $

Ranking: 47.
5.

The Athenian School
This elite high school is located in the sunny city of Danville, where it offers prestigious quality education and campus accommodation in a friendly atmosphere. The Athenian school has a capacity of 530 students, of which 60 live on campus. In addition, almost 60% of "Athenian students" are people from different ethnic groups, so a multicultural community has been formed here.
Location: Danville, California

Tuition:

from

6

8,7

00 $

Ranking: 28.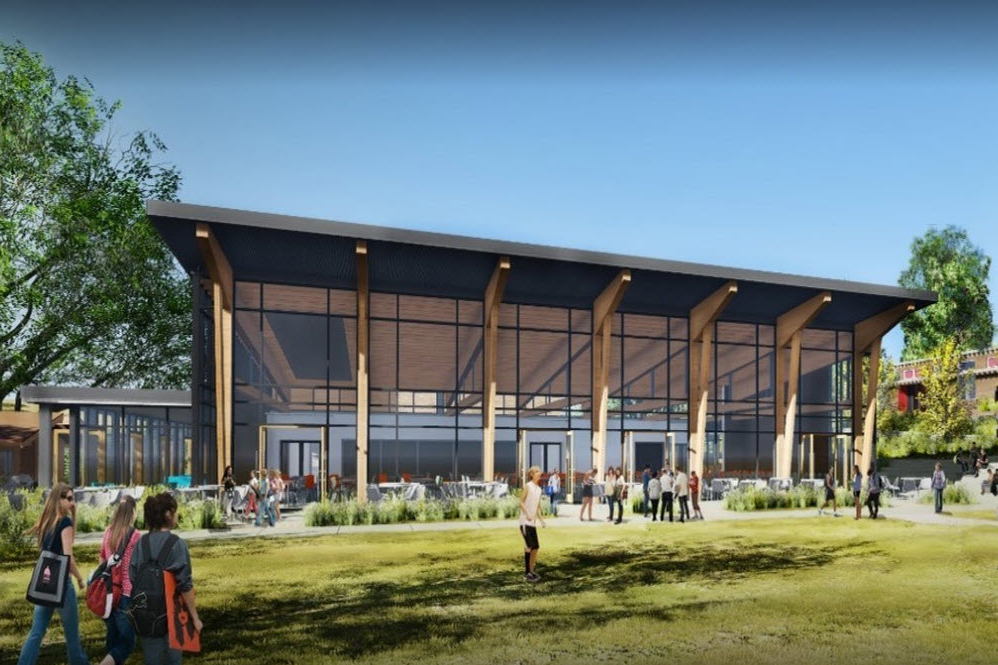 4. Woodside Priory School
Education at Woodside Elementary School costs more than 70,000 $ per academic year (price with full board). Full-time tuition costs slightly less - about 46,000 $ per year. It should be noted that life on campus is without exaggeration luxurious: on the institution's website it is indicated that among the students' favorite dinners are filet mignon and Malaysian crab. Woodside Priory School's residential environment includes billiard tables, ping-pong tables, flat-screen TVs, and access to a heated school pool.
Location: Portola Valley, California

Tuition:

71,975 $

Ranking: 23.
3.

The Masters School
It is one of the most expensive schools among the best boarding schools in the country, based on the official information of the website of the educational institution. During the weekend, students can go for a walk in New York or spend time on the beautiful historic campus.
Location: Dobbs Ferry, New York

Tuition:

72,000 $

Ranking: 51.
2. Ross School
Founded in 1991, Ross School Private School offers students a full-cycle secondary education - from the preschool level to the 12th grade of high school. It is the only private school in the southern region of Long Island that provides such a wide range of curricula. The annual price for programs here starts at 71,048 $ per year.
Location: East Hampton, NY

Tuition:

from 71,048 $
Leman Manhattan
Первая строка в нашем списке - современная и высокотехнологичная американская школа, расположенная в самом сердце Манхэттена. Здесь обучение предлагается от учащихся от 3 лет (дошкольного уровня) до старшей школы. Школа недаром гордится успеваемостью своих учеников, поскольку начиная с 2013 года (первый выпуск) они неизменно поступают в ведущие университеты страны - Пенсильванию, Вашингтон и другие регионы. Стоимость обучения, как и престиж школы, находится на очень высоком уровне: в 2020 году цена достигает 93 000 долларов (включая проживание).
Расположение: Манхэттен, Нью-Йорк

Стоимость обучения:

93 000

$.